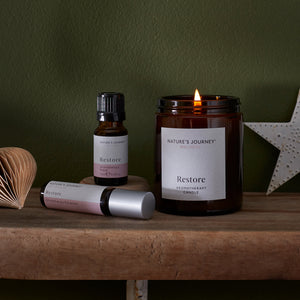 The Aromatherapy Ritual
---
Regular price
Sale price
£44.00
Enjoy a mindful moment with our Aromatherapy Ritual
Expertly crafted by hand to help you create a cosy retreat away from the world.
Each Aromatherapy Ritual contains: 1 x Aromatherapy Candle 160g, 1 x Aromatherapy Blend 10ml, 1 x Aromatherapy Rollerball 10ml

Choose your Aromatherapy Ritual.
Relax 
For when life gets fraught and frazzled 
Sweet Orange / Vetiver / Lavender  
Restore
For when life feels out of sync
Geranium / Sweet Orange / Petitgrain / Frankincense  
Revive 
For when you need a little pick-me-up 
Mandarin/ Geranium / Rosemary / Eucalyptus 
Our candles are hand-poured in small batches with pure essential oils for a long-lasting fragrance and blended with coconut and rapeseed wax and a pure cotton wick, for a clean, even burn, our aromatherapy candles are the perfect way to enjoy a mindful moment, and a gorgeous gift for someone special.
Add 5 - 10 drops of our Aromatherapy Blend to your bath or aromatherapy diffuser, and simply breathe in the aroma... 
Apply our Aromatherapy Rollerball to pulse points, and let the blend of CBD and comforting essential oils provide a moment of wellness on the go.