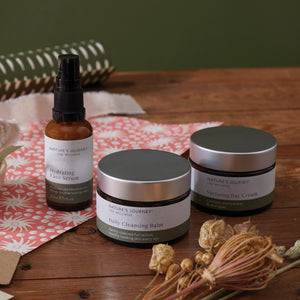 The Daily Glow Ritual
---
Regular price
Sale price
£95.00
Reveal your natural glow with our trio of skincare saviours
Expertly curated to give you a reliable daily routine for total radiance.
Melt away dirt, grime and impurities with our indulgent Cleansing Balm. Used together with the Organic Cotton Cloth provided, it gently but effectively removes make-up, while the cloth helps to exfoliate the skin, leaving it refreshed and comforted. 
Follow with our Hydrating Face serum, with its blend of skin-quenching plant extracts, the answer to perfectly hydrated skin.
Finish with our skin-quenching Day Cream. Light, yet rich, and packed full of plant extracts to soften, soothe and hydrate the skin, all day long. 
Our Daily Glow Ritual includes: 1 x Daily Cleansing Balm 50g + 1 Organic Cotton Cleansing Cloth, 1 x Hydrating Face Serum 30ml, 1 x Nurturing Day Cream 50ml